ROOT FERTILIZATION & MYCORRHIZAL SOIL INNOCULATION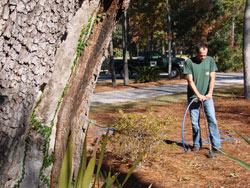 Most landscape trees will grow very well in the normal sandy loam soils that are present throughout most of the Lowcountry. We want to see your trees not just grow, but thrive! Our liquid injection root fertilization process brings added nutrients and more importantly, the trace elements, which will increase root production and health and keep your trees in top vigor. They will not only be healthier, but they will also be more drought tolerant and less susceptible to insect and disease damage.
Learn more about our fertilization and soil management service on bartlett.com.


TREE PRUNING
ROOT FERTILIZATION & MYCORRHIZAL SOIL INNOCULATION
CAMBISTAT GROWTH REGULATOR
PRE-CONSTRUCTION TREE SURVEYS
TREE CABLING AND BRACING
LIGHTNING PROTECTION FOR TREES
COMMUNITY SERVICES
TRAINING
STORM DAMAGE RESPONSE